Mountains of Stars: Doug Arion Brings a Cosmic Perspective to AMC
Doug's family made their first visit to the White Mountains of New Hampshire when he was just nine months old, connecting him to the land from the start. Though he grew up in New York City, he was always happier in the woods. Frequent vacations to New Hampshire proved to be the perfect way for Doug and his brother to get outside and burn off energy. His parents took them to waterfalls and other local areas, and AMC's White Mountain Guide led them to many of those. "It feels like I've known about AMC my whole life," says Doug.
It wasn't until he got older, after a stint living out West, that he became an AMC member on his own. "I have a deep love of these mountains," says Doug, "and that's why I live in them and have focused my professional career in getting back to them [Twin Mountain, NH]. Doug has spent his career as an entrepreneur and educator. As professor emeritus of physics and astronomy and Donald Hedberg professor emeritus of entrepreneurship with Carthage College, he is deeply concerned about human impact on the environment. He brings his cosmic perspective and environmental expertise to his longstanding volunteer work with AMC.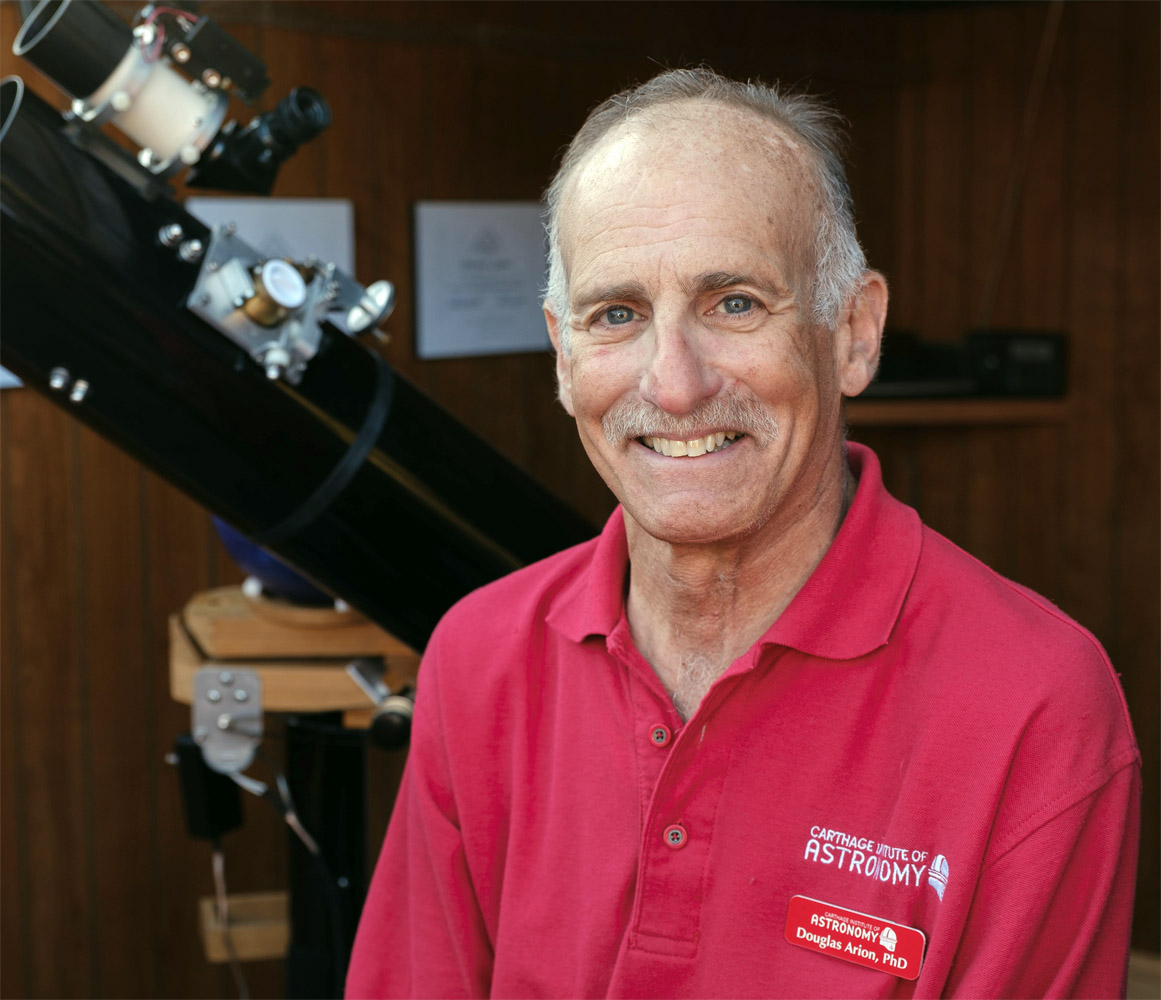 If you've ever visited AMC's lodges and huts in Maine or New Hampshire, you may have encountered Doug's brainchild, the Mountains of Stars program. Mountains of Stars delivers a variety of hands-on and experiential activities to bring a greater understanding and appreciation of our place in the universe to guests and visitors. Offerings made possible through this program include viewing through telescopes, planetarium shows, and activities such as building model solar systems, creating mini planetariums, and playing astronomy-themed games. The program also trains undergraduate science students and outdoor guides and educators to be effective science communicators, who then contribute to providing programming for guests at AMC facilities and other locations across New England. Since launching in 2012, more than 65,000 people have been reached through these special
programs.
In recent years, Doug helped create the AMC Maine Woods International Dark Sky Park, which was certified by the International Dark Sky Association in May of this year. Formed through a partnership of Mountains of Stars, the Appalachian Mountain Club, and economic development organizations in the Maine Woods area, the new designation assures the protection of more than 75,000 acres from light pollution within the last dark sky region in the eastern two-thirds of the United States.
Doug is an active member of both the President's Society and the Summit Trust, having included AMC in his estate plans. "I support AMC because, for me, it is the one outdoor organization that I'm connected with that does what it claims," says Doug. "AMC really does connect people to the outdoors, takes care of regional trails, publishes guides, works hard to provide quality outdoor experiences, and so much more."
Approaches
Our three-pronged approach to environmental protection is composed of research, advocacy and on-the-ground conservation.
These three approaches are intertwined, and all are driven by our scientific research.