Rich Higgins and AMC: The Mountains Are Calling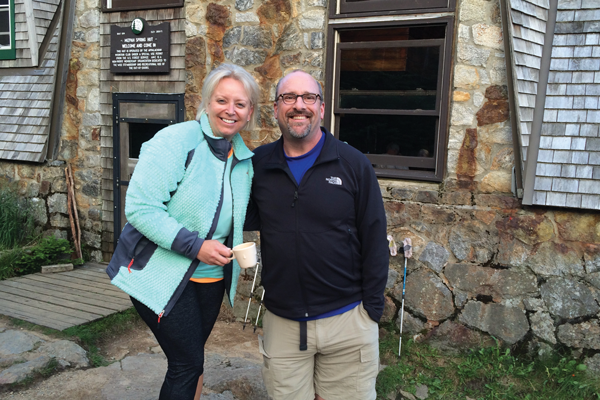 Rich's connection to AMC began with his summer camp days in the late 1970's. The camp, centrally located near Lake Winnipesaukee in New Hampshire, allowed for a plethora of outdoor excursions throughout the state. The first mountain Rich hiked was Mt. Major, where, at the time, you could see the summer camp from the summit. From there he signed up for trips that took him all over the White Mountain National Forest, with many culminating with a trip to one of AMC's huts.
Rich began collecting embroidered patches from each hut and quickly realized that he could get a discount if he joined AMC. So, at the age of 13, he did just that. Rich recalls a memorable trip to Lakes of the Clouds Hut via the Boott Spur trail. The group of kids were frightened when they got stuck in a lightning storm above treeline, where they could not retreat to the woods and had to make themselves as flat as possible in the saddle from Boott Spur.
AMC's White Mountain Guide became a trusty companion as he continued exploring hiking trails throughout the region. The mountains called to Rich and he continued to return each year as a camper and then as a counselor. He went on to take time off from college for a croo position at Pinkham Notch Visitors Center. 
From August of 1990 to April of 1991, he enjoyed living right in the Notch, caring for guests by turning over beds, cooking meals, and cleaning up. Rich's days off, Thursday and Friday, remain memorable as he headed to Sunday River (for the half-price tickets), Wildcat, Attitash or Black Mountain to ski with buddies. He returned to college, but New Hampshire remained his absolute favorite place in the world.
While life took Rich further from New England, he continued to spend frequent summers in New Hampshire and as time went on, was thrilled introduce his wife to the White Mountains with a trip to Carter Notch Hut, where they first encountered composting toilets and the resident porcupines. Through family vacations, they have gone on to share their love of AMC and New Hampshire with their children.
In 1993, he became aware of the President's Society, AMC's leadership annual giving society, and has been a loyal supporter ever since. "No other organization holds a candle to
AMC," says Rich. "As an advocacy and education group, AMC gets people into these special spaces to show how valuable they are and how important it is to preserve them."
As an estate attorney, Rich knows how transformative estate gifts can be. He made his first will at 21 and AMC is fortunate to continue to be included in Rich's legacy plans. "My wife and I are philanthropically minded because we know that the important work of AMC, and other organizations, doesn't happen in a vacuum," says Rich. "It takes likeminded individuals to take care of the things we love."
 
Approaches
Our three-pronged approach to environmental protection is composed of research, advocacy and on-the-ground conservation.
These three approaches are intertwined, and all are driven by our scientific research.